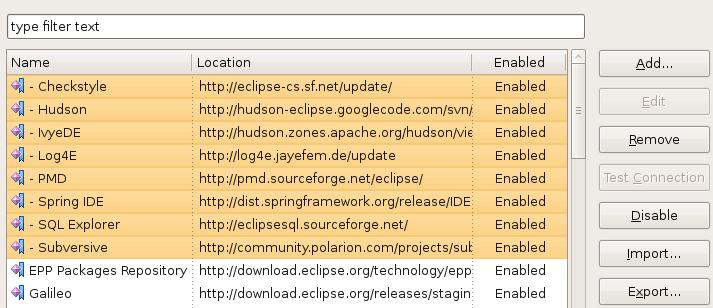 The Eclipse developers did a really nice upgrade to the Plug-in manager in the new Galileo release. Managing plug-in sites seems much easier and cleaner with the new Available Software Sites menu option in the main preferences area. Not really a new feature, but seemingly more obvious, is the ability to import and export update sites to and from your team mates. I have exported my settings and linked them to the XML file icon on the left. Simply download the XML file and import them into Eclipse and you are ready to go. I can't believe I never used this feature in the previous versions!
Also, don't forget that you can also have Eclipse automatically find new updates for you.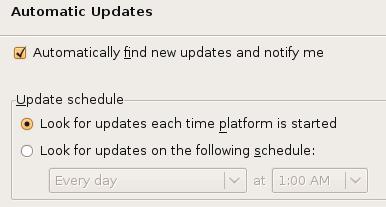 This is not a new feature either, but one that I always seem to forget! I just hit the Check for updates option every so often; not nearly as convenient! You can find this option under the Install/Update preferences panel as well.
Once you have your software sites configured, it is time to install or update your configuration.  Under the main Help option, select Install New Software.  You can select multiple plug-ins for installation  or use the new Work with: option. You can filter your plug-ins based on a specific site's configuration file. I'm not exactly sure why I like this better, but the old multi-tab Ganymede version was just too busy. I think the new screens are much cleaner and easier to work with.