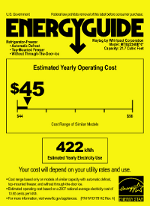 I always wanted one of those electric monitoring devices, but always found enough skeptical reviews that I never went through with the purchase.  After talking to a friend who was going green, he mentioned that he had purchased a Kill a Watt device. It will monitor the electric consumption of anything (110V) that is plugged into it. So, following his lead, I went ahead and eBay-ed myself a Kill A Watt EZ. The EZ version will actually compute the electricity consumption in dollars per day, month, or year; based on the cost of a killowatt-hour charged by the electric company.
I have only had it for a couple of days, so I can not report too much at this point. It is very interesting to watch (from a geek perspective) how much electricity a TV consumes in stand-by mode, verses when it is actually turned on. I need to let my wife know this, as she likes to listen to the DirecTV music stations, with the TV on! Another friend said I might turn into the "Electricity Police", you never know, if I have some numbers to back up my arguments, the kids might actually listen!
Here are a few things that I have monitored thus far:
A wall mounted water fountain. I just has little water pump that runs 24×7.  This was not too bad, only about $5.37 a year.
The 12 year old refrigerator. Only monitored it for 3 hours, and it ran up to $108 per year.
My computer, 24″ LCD, and HD DirecTV DVR, on a UPS, all of which also run 24×7. This totaled up to about $124 a year!
It will take some time, but there are lots of little things I'm curious about; such as the cordless phone chargers,  two printers in stand-by mode, the freezer, the washing machine, etc… I still have some big things too look at.
So what can I do with these numbers? Well, I popped over to Sears.com, picked out a new 21 cubic foot refrigerator, just to check out the Energy Guide information. The new appliance had annual operating expense of only $45 dollars, using 10.65 cents a kWh. I was using 6.3  cents a kWh! I find this way to hard to believe, if I recalculate the cost of the new refrigerator to the 6.3 cent rate, the annual operating cost drops to only $27, which would save me about $81 per year.  Quite a bit of money, but would still take quit a bit of time to recoup the cost of a new appliance, assuming that a new refrigerator would cost at least $1,000.
I honestly don't think I can make that many changes to save money, without actually unplugging things or replacing the big consumers; time will tell! My family wants to put solar panels on the roof and sell the excess electricity back to the power company; I'm sure that is a small investment!