Not my typical post, but I have been so impressed with my new toy(s), that I just had to blog about them! Over the years, I have tried every way possible to avoid paying Verizon for my phone service, there is nothing worse than paying for a home line, plus multiple cell phone lines! Yes, I have tried VOIP services in the past with limited success. I used ViaTalk for a couple of years and really liked their service; I unfortunately did not have access to real broadband, so their service was not really that great. VOIP services can definitely be cheaper than traditional copper land-lines, but still seem expensive for what you get; even Vonage is about $30 a month. Apparently, I don't put a reasonable value on having home phone service!

Enter Google Voice. I have been a Google Voice user for a long time, even before Google purchased and rebranded it as Voice. I never achieved any great value from their service, but the integration with my Android phones was extremely nice. I mainly use it for the transcription of my voice mails. For the last year, I have used GV as my primary home phone, making most of my calls from the computer, using the Google Voice/Talk combination and a USB headset. This works pretty well, but sometime I miss talking on a real phone!
A couple of months ago, I happened to read about a free VOIP service, using an inexpensive hardware device from a company called Obihai. Their ObiTalk service provides both SIP-based VoIP and Google Voice integration.  ObiTalk provides a great amount of flexibility, including a Softphone solution, as well as applications for both iOS and Android based mobile devices.  To be honest, I really did not care about any of their advanced features, I just wanted the Google Voice integration.  I would have purchased the OBI100, but it was out of stock; so I ordered the OBI110.  Somehow, I happen to catch a deal, and picked it up for $45 from Amazon.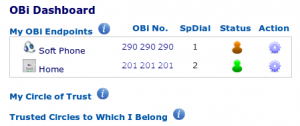 As you would hope, the OBi device takes no time at all to get working after you unbox it.  The first step is to create a ObiTalk account and register your device. The process is trivial, you just need to connect the device to your router and plug-in your phone. Next, click the add device button and follow the on-screen directions.  Simply dial the magic number provided by the site and your device will be connected to your account. I only encountered one surprise, the device unexpectedly rebooted a couple of times.  This behavior was actually expected, as the device has the ability to update itself from the central server. After a couple of auto-reboots, the device as been rock solid.
I have been using the service for about a month now and it has worked amazingly well. I'm not currently a fan of Google Voice's call quality using my cell phone; I always blamed it on my Verizon service! Most of my calls seem to have a lot of strange echoes and delays, which you would assumed to be a GV server problem, not a Verizon issue.   However, the Google Voice call quality using the ObiTalk device is exceptional; I don't think you would have any clue that the call was using a VOIP service.  The phone works as you would expect; you just pick it up and listen to that traditional dial tone, just like it always has been! I was also able to keep my Verizon phone number; the process to port  a land-line to Google is a little painful, but easily accomplished.  Because Google cannot port a land line, I had to first convert it to a wireless number, setting up a month-to-month contract. Once it was converted, Google quickly ported it over to their service, for a small $20 fee.
So, what is the downside? Today, nothing. Tomorrow, who knows! The future is the biggest concern; we have all seen numerous technologies quickly come and go over the years.  Google has not actually been very attentive to their GV user base, as enhancements to their service have been non-existent for years. Fortunately, the service continues to roll along and fundamentally works well enough for what it costs. The bigger question is how will Obihai survive?  Where do they get their funding to keep the ObiTalk service running? I'm sure they make a little money on their devices, but it hardly seems enough to fund the company in the long-term.  They provide exceptional service and a quality integration with Google, surely they will have to start charging for their service at some point. I could justify a nominal monthly fee, but if it is too steep, it would be easier to just give the money back to Verizon and user their VOIP package. Ideally, if Google has any long-term vision for Voice, they should seriously consider buying Obihai. It would give Google another open platform that would allow other SIP provides to integrate into their GV network.  It would also create a more economical and conventional solution for the typical, non-technical consumer to take advantage of VOIP technology and further expand the adoption and usage of the Voice product. I just hope that Voice does not end up like other recent Google technology victims…
One last point, Obihai does not seem to be slowing down. They are planning to release a new version of their hardware, the OBi 202. You can actually find quite a bit of information on that site related to Google Voice and the OBi services. You will have to read my next blog to find out what my other toy is!