I have been a big fan of Buffalo Technology products for some time. I purchased a couple of their NAS storage devices and use them as my primary backup solution. After working flawlessly for years, my first LinkStation died on me; it was was the original version and only had a 160GB drive.  We had a home office setup in our barn; I moved the LinkStation out there, just in case we ever had a fire in the house. The embedded print server was a nice addition, allowing us to print from anywhere in the house. Unfortunately, I think the barn was a tad bit dirtier than the LinkStation preferred. Even though the office was in a separate room, it was next to my wood shop and must have sucked in a lot of dirt and dust. As you can see from the picture below, there was a lot of black gunk on the fan intake, which ultimately caused the fan to fail. The device would still power up, but the hard drive would spin up and then quickly shutdown. Buffalo's built in diagnostics indicated that the internal fan had failed, and unfortunately, this prevented the NAS from working at all. What a drag!  I did a little bit of research and found the suggested replacement fan on the Buffalo forums. Amazingly, they wanted about $20 for a new fan. I thought that was a little too steep; considering that can you get a 12omm case fan for under $5! I did some more Googling and found one for for $4 with free shipping; I figured why not!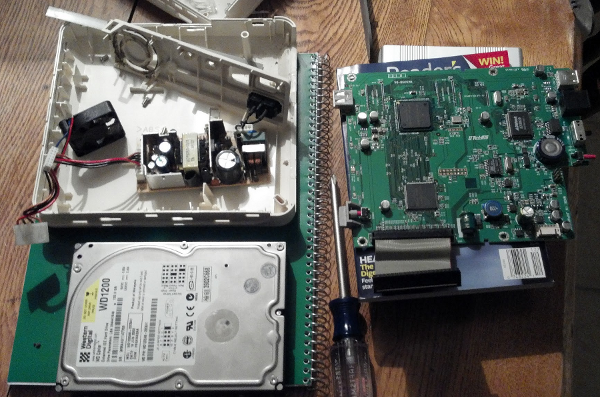 Getting the box apart was a little challenging; I did the typical man thing – did no research and just grabbed a couple of screwdrivers! I did find some good instructions, after I was done with my project! There was one primary screen in the back, that basically holds the whole thing together. Once you get the case apart, it is quite easy from there. I was pretty impressed with the clean design, the main system board and an auxiliary power board, which eliminates the need for an external power block.  To replace the fan, I just snipped the three wires and spliced in my new one. Once I remembered how to put all of the pieces back together, it was a snap. Literally, the case almost snaps together; the hard drive bracket pops into the enclosure and the only screws are to hold the system board onto the hard drive bracket. There were two small screws that secure the power board, but that is it!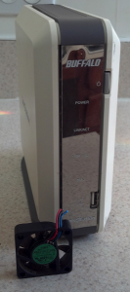 So, the real question is, did it it work after I put it back together?  The answer is sort of!  Actually, I think it worked fine. I could connect to it through the web interface and my son's Windows 7 computer was able to mount the file system and save files. Unfortunately, neither my Ubuntu box or MBP was able to mount those partitions. Both computers could see the box on the network, but when I clicked on the device to access the shared file systems, they both complained that nothing was exported.  I believe these old LinkStations were supposed to support all operating systems, but I honestly have not used it for so long, I cant' remember if it ever worked with Linux. My newer LinkStation NAS works with all of the computers, with no problems at all, so it is kind of strange!

While I was doing research on the LinkStation, I found a really cool site called NAS-Central. I know I should not be surprised, but as I was disassembling the device, it struck me that it was way more than a simple NAS device, it was a just another computer.  I really never thought about the internals, I just wanted something that I could plug an Ethernet cable into and  save some data!  NAS devices are actually pretty cool, but not really that exciting! You basically just plug them it and forget about them; they are a true network appliance. Little did I know, just like people who build custom ROMs for cellphones, they do the same thing for these NAS devices… You can easily turn your LinkStation (or other NAS device) into a real Linux server, with a wide variety of additional capabilities. I have not decided what I'm going to do with my old LinkStation yet, but if I get really bored, I might have to give of of these distributions a try!  If you ever decide to purchase a NAS device, make sure you have Buffalo a look. I have several friends and family members who purchased LinkStations, and I have yet to hear about any problems! I think Buffalo makes a pretty solid product, I'm sold!